NETWORK VIDEO RECORDER
---
Instek Digital™ video recorders are designed to satisfy the dynamic needs of the emerging digital video surveillance market. With high video image resolution - seamlessly integrated mass storage, alarm recording and hybird camera configuration. Instek Digital video recorders meet the performance of today's enterprise level installations.
Features Highlights:
support H.265
stable and secure application on Linux OS
SDK API ready for integration with POS, Access Control and Building Automation systems
variety of hard-drive disc trays up to 24 trays
support various video compression formats and resolution of IP cameras
comprehensive graphical illustration for quick search of recorded video
NR5400-4U SERIES
---
This extended storage offers up to 32TB of storage at a well priced level. Its power saving technology has been given a green-award and can result in 70% energy costs savings annually. It features a quad-port iSCSI 1GB access with link aggregation.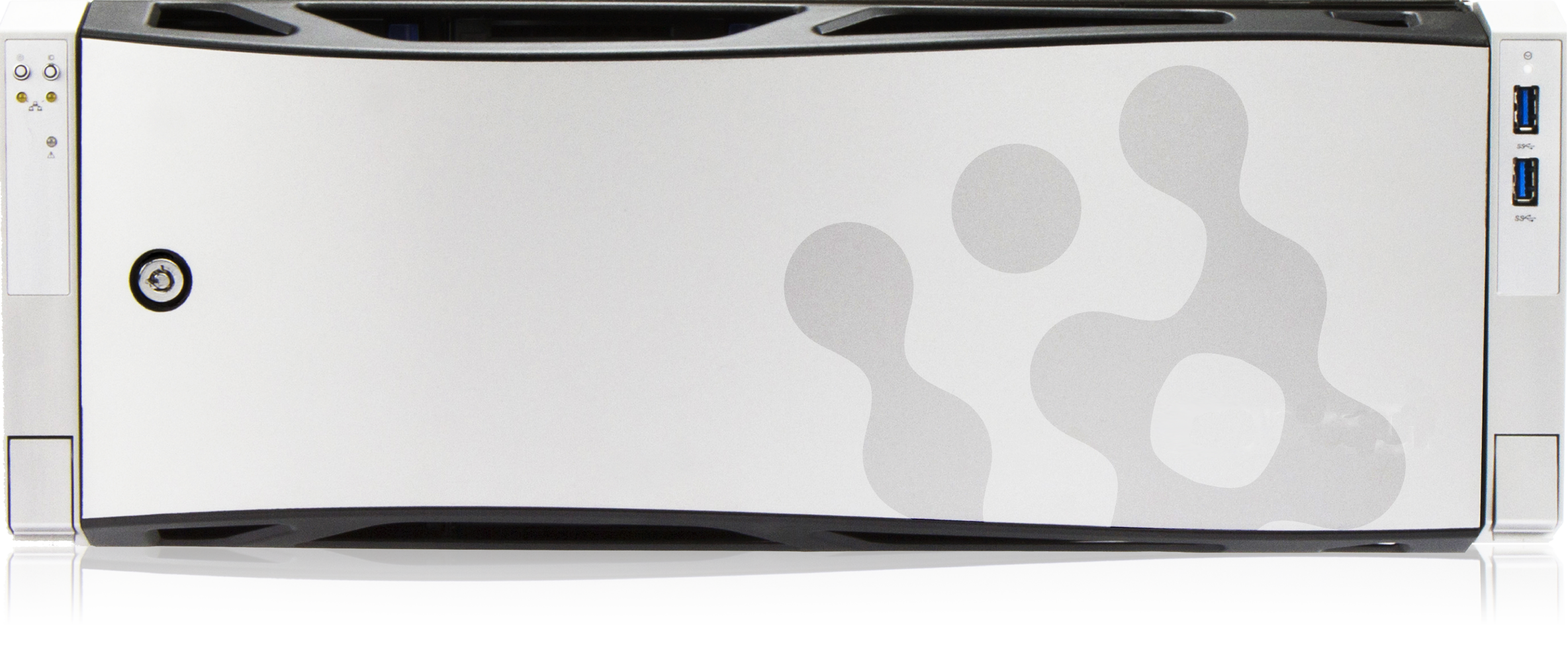 NR5400-3U SERIES
---
The high performance enterprise-class 3U series NVR, like its 3U series DVR counterparts, delivers the highest standard in performance. Dual power supplies, 8 to 12 hard drive bays, and optional RAID-5 and RAID-6 capability ensure that critical data will be safe even in the event of mechanical failure. Instek Digital NVRs support numerous IP camera compression formats for maximum flexibility.

NR5400-2U SERIES
---
Instek Digital 2U series NVRs provide a range of options to suit any security system. The 2U delivers great power and value in a compact design with support for numerous IP camera compression formats. With models offering four or eight hard drive bays and optional RAID-5 and RAID-6 support you can choose the configuration appropriate for your individual needs.
NR3800-2U SERIES
---
Instek Digital Serial Attached SCSI II JBOD Storage features the latest SASII (6Gb/s) interface and designed to fit in with the environment which needed highly reliable and relentless data growth.
NVR COMPARISON
---
See which NVR is suitable for your project
| | NR5400-4U | NR5400-3U | NR5400-2U | NR3800-2U |
| --- | --- | --- | --- | --- |
| No. of cameras | 32/48/64/128 | 16/32/48/64/128 | 16/32/48/64 | 16/32 |
| HDD trays | 24 swappable | 12 swappable | 8 swappable | 4 fix |
| Form factor | 4U | 3U | 2U | 2U |
| Specification | Learn more > | Learn more > | Learn more > | Learn more > |
| Datasheet | | | | |
NVR-FAILOVER (NVR-FO)
---
Instek Digital™ NVR Failover server is a redundant NVR server - which automatically takes over operation of the NVR server in case of a malfunction. Ensuring non-stop NVR recording - Instek Digital™ designed the NVR Failover server.
NO SINGLE POINT OF FAILURE
Instek Digital™ system architecture has been designed to eliminate single point of failure and allow maximum uptime. The distributed architecture of Instek Digital allows any failover NVR to take over the operations of a failover NVR. Even a failing NVR FO can be taken over. In contrast with a central architecture - which requires a central server and risk single point of failure. Instek Digita™ distribute architecture provides flexibility - without any risk of video-loss.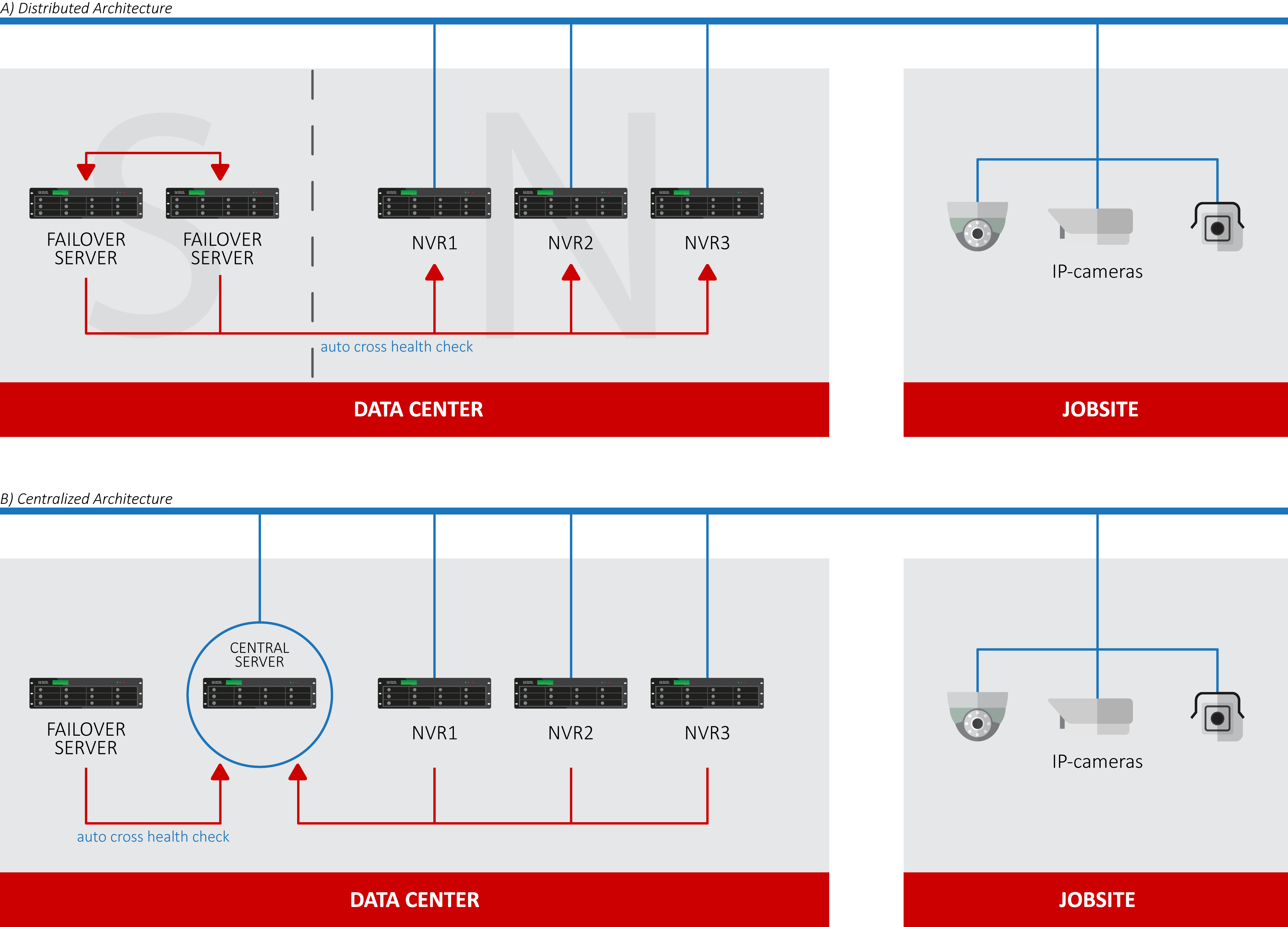 Instek Digital™ distributed architecture - multiple NVR's are connected to the network and in any case a failure occurs - Instek Digital's NVR Failover server (NVR-FO) will take over the functionalities of the original failing NVR. This results in a seamless operation without any interruption. N represents the operation of the host and S represents the standby host.